News Archives
July 2010
The Matariki exhibition at the NZ Academy of Fine Arts: Daniel is exhibiting a couple of paintings, including 'Taniwha', shown here. The taniwha is a creature of Maori myth and legend, a guardian of all waterways, and is held in fear and respect by the people of this land. A dangerous and awesome being that might be lurking in any stream or pool or sea....

'Matariki' is the Maori New Year, coinciding with the first rising of the Pleiades star cluster, which is named Matariki in the Maori tongue. This exhibition celebrates the diversity of life, culture, language, spirit and people of New Zealand, and runs from 9 July until 1 August 2010.
"My painting attempts to capture the essence of this mythical creature. Tiki faces and koru patterns are deeply engrained images in this country, so they seemed an appropriate guise for my rendition. Paua-shell eyes feature in many Maori carvings. Is that seaweed, or is it the arms and fingers of the taniwha?
As a little boy, I was always afraid of this creature, thanks to my father's warning 'Watch out for the taniwha!' whenever we played in or near the water, especially the creek at the back of our house. Any log floating in a river might have been a glimpse of the taniwha. It might be hiding in the kelp at the beach, or in the surf, or lurking below me as I sailed dinghys at New Plymouth.
Whenever you're in the water, beware the Taniwha...."
June 2010
This seems to be the year of teaching. As well as the Northern Escape Artists Tour in October, Daniel is teaching three calligraphy workshops (May 15, July 17, August 14 - and possibly a fourth in Auckland later in the year), a painting workshop (on the subject of Limited Palette painting, for Watercolour NZ), and he will be demonstrating and tutoring on some of the monthly painting mornings run by Watercolour NZ. Daniel will also be giving a presentation at Letterheads - the annual signwriters' convention - in Wellington in October.
12 May 2010
Announcing the Northern Escape Artists Tour of the Far North of New Zealand, planned for October 2010. This tour is aimed at those who want to be immersed in the beautiful places of New Zealand, and capture it with paint, pencil, charcoal, film or pixels. The Northern Escape Artists Tour itinerary can be viewed here , reports on all sketching tours are found here.
7 May 2010
Exhibiting at the New Zealand Academy of Fine Arts Autumn exhibition in Wellington, 8 May to 7 June.
Late April 2010
Exhibiting at Parliament House as part of the Watercolour New Zealand exhibition. Limited to one painting per artist; the exhibition runs until mid-May.
April 2010
Daniel was once again the Resident Artist on the Red Carpet Tour of Lord of the Rings filming sites throughout New Zealand. As well as seeing the spectacular scenery, the tourists were given tuition and assistance with sketching, drawing, painting and calligraphy during the tour. Once again a marvellous experience for all concerned!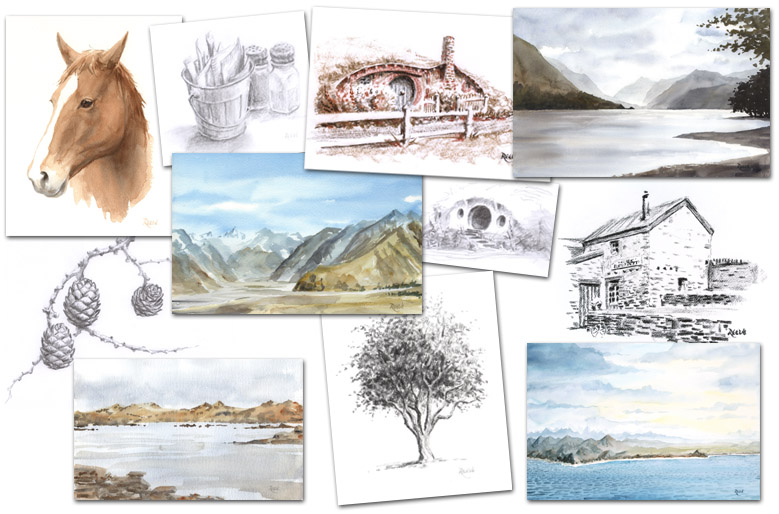 More images can be seen on the Sketching page.
Early April 2010
Two of Daniel's calligraphic artworks are featured in Letter Arts Review, Issue 24:2, the Annual Juried Issue. Letter Arts Review is the world's pre-eminent calligraphy publication, and each year the Annual Juried Issue showcases the best of the world's calligraphy. Daniel's pieces selected were "This Space Intentionally Left Blank" and "Katipo", both of which can be seen on the Calligraphy page.
20 March 2010
The Southeast Asia Night Market is on for one night, 20th of March, on the Wellington waterfront. Daniel designed the three archways that lead into the event. The entranceways capture styles of (from left to right) Thailand, Cambodia and Vietnam.

March 2010
Daniel is exhibiting paintings in the "Summer Letters" calligraphy exhibition at the Paraparaumu Public Library with the Calligraphers of Kapiti and in the "At the Bay" exhibition of work by Titahi Bay artists at Pataka museum and gallery in Porirua.
January 2010
Working on a major film. Confidentiality agreements prevent Daniel from saying any more about it... ;-)
December 2009
October 2009
The Sketching Tour is back! Following the success of the tour in 2008, Daniel will once again accompany Red Carpet Tours around some of New Zealand's most beautiful scenery, including many filming sites for The Lord of the Rings movies, demonstrating and tutoring at each location. This tour will take place in April 2010. For more information visit Red Carpet Tours website , as well as updates on this website. Daniel's report on the 2008 Sketching Tour can be found here.
September 2009
Daniel's artwork for the Stella Artois ad campaign can now be viewed online at the Stella Artois Australian website. (or by purchasing a carton of Stella Artois beer if you happen to live in Australia.)

The artwork for this campaign included the main poster picture of a car, boat and plane racing towards a castle in Europe; a map of Europe showing the Challenge Course; and a set of six postcards depicting scenes along the way.
August 2009

Above: The Alphabet Soup exhibition, with some of the pieces inset, from left to right, by Helen McIntosh, Dan Reeve, Dan Reeve, Pam Kessler, Don Little, Howard Farr.

Right: The Artists, from left to right: Daniel Reeve, Pam Kessler, Councillor Hilary Wooding (who opened the exhibition), Howard Farr, Helen McIntosh, Don Little.

Below: Pieces by Helen McIntosh (left) and Daniel Reeve.
July 2009
| | |
| --- | --- |
| | Alphabet Soup is an exhibition of calligraphy and letter arts by five calligraphic artists from the Kapiti Coast: Howard Farr, Pam Kessler, Don Little, Helen McIntosh and Daniel Reeve. The forty-four artworks on display run the broad gamut of calligraphic styles, mediums and subjects. The exhibition will run from the 6th until the 30th of August at Diedre Ralph Gallery, 29 Marine Parade, Paraparaumu Beach. |
June 2009
| | |
| --- | --- |
| The Treaty of Waitangi. Once again, Daniel has played a pivotal role in creating replicas of New Zealand's founding documents, this time for long-term display at Te Papa Tongarewa, The Museum of New Zealand. The exhibition opened on 26 June, and is on the mezzanine floor above the Signs of a Nation permanent display. | |
May 2009
Stella Artois is the flavour this month. Daniel created artwork for a major Stella Artois ad campaign. Release date unknown at this stage, but images will be posted here once the campaign is underway...
26 April 2009
Daniel is taking part in the 10th Anniversary celebrations of TheOneRing.net, by taking part in online discussion threads on the MessageBoards for a couple of days (well, the 26th of April, as it rolls its way around the timezones of the world)...
March 2009
Work on Spartacus, a TV series set in ancient Roman times. Images obviously under wraps at this time.
February 2009
Daniel exhibited a large watercolour of Mana Island at the NZ Academy of Fine Arts in Wellington. Upcoming exhibitions to include Daniel's work this year are several more NZAFA exhibitions, a calligraphy exhibition in August, and a Watercolour NZ exhibition in October-November.
October 2008 - January 2009
| | |
| --- | --- |
| Work on the biblical epic movie Kingdom Come. Beard required for potential on-screen shots... ;-) | |
19 January 2009
6 December 2008
The Big Day Art was a special, one-day event promoting local artists. Porirua Community Arts Council organised the exhibition at the brand-new Te Rauparaha Arena in Porirua. About 60 local artists participated, exhibiting and selling their art and craft work. Daniel exhibited new works and old, and sold several. It's hoped that this will become an annual event.

October 2008
The highlight of the year was of course the Red Carpet Sketching Tour! In October Daniel accompanied the Red Carpet Tour right throughout the country, visiting all the famous filming spots from The Lord of the Rings, and giving some art tuition on the way. What a marvellous time! Full report and images coming soon.
September 2008
An interesting development during the year has been creating commercial art for The Craft Shop, an advertising company in Auckland. They've needed handwriting for several ads, and illustrations for others, so we've done some interesting projects together. Some examples of this kind of work can be seen on the new Commercial Art page.
August 2008
The Mines of Moria, as you've never seen them before. Daniel created an intricate map of Moria for the European version of the LOTR Online game, Moria expansion. The printed map was to be included in a special edition of the game - though it's difficult to find any evidence that this was done.
6 June 2008
Watercolour New Zealand's latest exhibition, Splash 4, features Daniel's latest painting, Chaffers Marina. The exhibition is on at Shed 11 on Wellington's waterfront, and runs until 15th June 2008.
April 2008
The Haunting of Kincep Mansion is another RPG by Wizards of the Coast: Daniel created four maps for it. This was a nice project - the maps needed a different look from what he'd done before. One or two of them are now on the Maps page.
March 2008
Completed Merchandising/Publicity map for the second Narnia film, Prince Caspian.
December 2007
Daniel creates props for Underworld 3: Rise of the Lycans, being shot in Auckland.
November 2007
Daniel creates props for The Laundry Warrior, being shot in Auckland and starring Kate Bosworth, Geoffrey Rush and Dong-Kun Jang.
May 2007 - March 2008
7 November 2007

10 September 2007
| | |
| --- | --- |
| I have heard tell of a wonderful gathering, indeed a Long Expected Party, which will be taking place in Kentucky in September 2008. Could be all sorts of interesting folk turning up there... | |
1 August 2007

31 July 2007
30 July 2007
Numerous updates to the website, including: a Logo and Design page has been added, a 3rd Party Merchandise page has been added, photos of movie props have been added to the King Kong page and to the Narnia page, and the Paintings gallery has been expanded and re-hung.
7 May 2007

5 April 2007
| | |
| --- | --- |
| Daniel's hand-drawn map of Cape Cod is now available as a limited edition print, individually numbered and signed. Limited to 50 pieces worldwide. | |
4 April 2007
After the great success of the 1st edition on January 2006, with more than 4,000 guests in Cascina Robbiolo, from April 28 to May 1 2007 Tolkieniana Net Festival comes back to Buccinasco, Italy!

This year, Tolkieniana will feature Daniel Reeve as a star guest, in a weekend celebrating music, art and calligraphy inspired by J.R.R. Tolkien. The weekend covers two themes, Hobbittana 70° and Back to Numenor, includes the events Eldamar IV and Alla Corte degli Elfi III, and runs in association with Tolkieniana.net, Eldalie, Bolgeri, Granburrone and ArsT.
4 April 2007
Vampira, The Movie, for which Daniel designed the title logo, will show in a sneak preview screening at the Weekend of Fear international film festival in Erlangen, Germany, at midnight on April 27th, having already made its debut in Chicago in February.

Vampira: the Font - coming soon to this website...
5 March 2007
| | |
| --- | --- |
| | The Art of Daniel Reeve, an exhibition at Thinking Creatively 2007, will feature some new work, including a map of the Cape Cod area. A limited edition print of this map will go on sale on 30th March. Details coming soon... |
17 January 2007
Daniel is thrilled to be asked to appear as the keynote speaker at Thinking Creatively 2007, the annual conference of the Art Director's Club of New Jersey! This is a melting pot of the best art directors, designers and creative thinkers, local and international, in a two day event which bubbles with creative energy! Let those juices flow!

Thinking Creatively is on 30 - 31 March, 2007 at Kean University in Union, NJ, and will also include a mini exhibition of "The Art of Daniel Reeve".
22 September 2006
| | |
| --- | --- |
| | September 22 - Bilbo Baggins' birthday! The perfect day to announce the release of the first Daniel Reeve font - Bilbo's handwriting! Check it out in the new Fonts section! |
31 August 2006

Various updates to the website, including the addition of an Illustration and Design section.
ELF Weekend of Wonder
| | |
| --- | --- |
| | New York, New York! Well, okay, the ELF convention was in New Jersey, just across the river, but one has to check out New York when one is that close, doesn't one? Manhattan was, er, hot!!! (there was a heatwave at the time), and the convention was cool! Familiar faces and new ones, great costumes, music by Emerald Rose, drinks until the small hours - great fun! Where's the next one? |
May-June 2006
May and June saw progress on various projects: some new oil paintings, the printing and binding of a volume of "The Art of Daniel Reeve" (not for publication at this stage, unfortunately), some headway in the backlog of overdue artwork and calligraphy commissions, and the beginnings of a set of Daniel Reeve fonts, which will be for sale from this website in September. Also continuing were the Red Carpet Tours, with many more people falling in love with New Zealand and not wanting to leave. Those bitten by the bug have set up a website forum at http://p086.ezboard.com/btheredcarpetfellowship.
Elf Fantasy Fair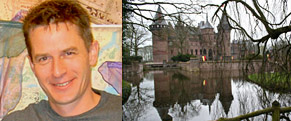 If you ever get the chance to go to the Elf Fantasy Fair , in Holland, go! This convention is truly unique! What an amazing setting! Held in the grounds of a beautiful, historic castle, with surrounding moat, gardens, lakes, fields and woods, you don't even need to imagine times from centuries past - you're already there! Astounding costumes were everywhere, based on all kinds of fantasy. Music, food, drink, battles - there was far too much going on to take it all in. A great time was had by all, including the star guests, Stan Nicholls, Tad Williams, Shane Rangi, Stanislav Ianevski, Tolga Safer, Chris Achilléos, Cate Tiernan, Susan Smit, the irrepressible Prof Roland Rotherham, and of course your humble narrator, Daniel Reeve. EFF rocks!
26 March 2006
Online purchasing with credit card is now available on this website - it's a bit more user-friendly than sending cheques. Currently, the merchandise page has two items available for sale: personalised, hand-written Invitations to Bilbo's Party; and the Ring Inscription, hand-lettered on hand-coloured "parchment" paper. Other products will be announced in due course, including downloadable fonts created by Daniel.
25 March 2006
Forgot to mention Letters to PJ!!! This amazing project was taken on by two young Australians, Susannah and Kristen, on behalf of fans of Peter Jackson and his film trilogy, The Lord of the Rings. People from all over the world wrote letters of appreciation to Peter Jackson, which Susannah and Kristen then assembled (very creatively) in a beautifully bound book. They then journeyed to New Zealand to deliver it in person. Daniel lent his assistance by providing title and closing pages, and enabling the book to be delivered. An absolutely wonderful project, reflecting the appreciation of PJ fans worldwide.
4 March 2006
Daniel is honoured to be invited to appear as a star guest at the Elf Fantasy Fair 2006 in April in the Netherlands. The Elf Fantasy Fair, now in its sixth year, is one of the major events on the calendar for European fans of The Lord of the Rings, and medieval and fantasy culture in general, and will be held on Saturday and Sunday, April 22-23 2006, at Kasteel de Haar in Utrecht, Holland.
4 March 2006
A Treaty of Waitangi page has been added to the website. Here, Daniel explains some of the processes he used to create the replicas of the nine Treaty documents, the founding documents of the nation of New Zealand. These replicas form the core of the mobile exhibition Treaty 2 U , currently touring this country.
11 February 2006
...what better way to follow ORC, than to come to New York in July for ELF! After two successful The Lord of the Rings conventions in Pasadena, and one in Orlando, Creation Entertainment is once again teaming up with the folk from TheOneRing.net and coming to New York, for what promises to be a great weekend. Daniel is thrilled to be invited to make an appearance. The dates are Friday, Saturday and Sunday, July 28-30, 2006.
7 February 2006

ORC - the One Ring Celebration - what an event! The people at Creation Entertainment certainly know how to create a great convention. Star guests and fans alike enjoyed a weekend full of marvellous experiences - star panels, autographs, photo ops, bloopers screenings, music, artworks, scholars, parodies, costume contests, merchandise, and much more. Bring on the next one! ( ELF in July... ;-)
Festival of the Elements
Daniel is appearing in the Festival of the Elements on the 6th of February, New Zealand's national day "Waitangi Day", the anniversary of the signing of the Treaty of Waitangi, New Zealand's founding document. This festival celebrates New Zealand and it's multi-cultural society, with a diverse range of art and culture from this country. There will be a mini exhibition of some of Daniel's artwork on display throughout the day, and Daniel will give a presentation of his involvement in The Lord of the Rings, Narnia, and King Kong, at 1:15pm.
Coincidentally, on this day, the Festival also hosts the Treaty 2 U exhibition, in which Daniel played a major role: in the creation of replicas of the nine Treaty documents.
The Festival of the Elements is at Te Rauparaha Park/Pataka, Porirua, and commences at 10:00am.
17 January 2006
Various updates to the website, including the Skull Island merchandising map on the King Kong page, notes on recent projects, and the addition of a Contact page.
November 2005 - January 2006

7 days to write, 7 months to sign, 165 years to debate... and counting. The Treaty of Waitangi is New Zealand's founding document - of the nation in its current form, anyway. Daniel has played a major part in creating replicas. of the nine treaty documents: these form the core of an educational exhibition, Treaty 2 U, currently touring New Zealand.
November - December 2005
Daniel created illustrations for Hasbro's Game of Life based on The Pirates of the Caribbean. The set of thirty-two illustrations will be printed on cards that are part of the game. A fun project! - hopefully some of these illustrations can be displayed on this website in the future.
3 December 2005
"Dead Letters" is a short film, set here in Wellington, in WWII times. It was shot in six days in early December. Because of the very small budget, many people, including Daniel, donated their time and talent to the film for nothing. Daniel wrote letters in various styles, including some writing done on camera, because "people just aren't taught to write properly anymore!" Daniel's live action piece is supposed to be a woman's hand writing a letter - luckily they were able to crop Daniel's hand right out of the shot, and focus on the nib of the pen... so does that still count as a "screen debut"?
3 November 2005
Daniel will be appearing as a star guest at ORC 2006 in January in the USA. ORC, the One Ring Celebration, is a huge event brought to you by the TheOneRing.Net and Creation Entertainment, the folks who also run ELF, as well as conventions for Star Trek, Xena, and many others. ORC 2006 will be in Pasedena, L.A., on 20-22 January 2006.
28 October 2005
Some updates have been made to the website. Some illustrations now appear on the Lord of the Rings Illustrations page, and King Kong and Narnia pages have been added. Not much can be revealed until these films are released, but suffice it to say that Daniel's work will be appearing in both movies.
17 October 2005

Ring*Con 2005 was a blast! The Esperanto hotel and convention centre in Fulda, Germany hosted a fantastic event, attended by an incredible turnout of elves, hobbits Ringwraiths, Rohirrim, Gondorians, ents, Easterlings, Southrons and more. Sauron himself turned up, as did the Pillars of Kings, who did a hilarious performance on stage. There was even some room for some star guests, and we all had an excellent time! Thanks to the great team who made it all possible.
22 May 2005
A map of Narnia, created by Daniel for publicity and merchandising of The Lion, the Witch and the Wardrobe film, has begun to appear all over the internet, having been released by Disney. More news & images of Daniel's involvement with this film will be included on this website when permitted by Disney.
24 April 2005
Daniel will be appearing as a star guest at RingCon 2005 in October. Tolkien fans from all over the world will be gathering in Fulda, Germany to experience the fourth RingCon, Europe's largest convention devoted to The Lord of the Rings. The dates are October 7-9, 2005.
12 March 2005
Daniel will be making a guest appearance at The Best of Both Worlds 25 , in Canberra, Australia, this August. The numerous guests at this convention inlude actors from The Lord of the Rings, as well as WETA senior designer Daniel Falconer, Master Swordsmith Peter Lyon, and WETA's Emily Sturrock, responsible for hero armour and weapons in the films. The dates are August 4-7, 2005.
Back to Home Page