Contact details
You can contact Daniel either by writing to him at:
Daniel Reeve
PO Box 52064
Titahi Bay
Porirua 5242
New Zealand

or by email at:

Follow or message on: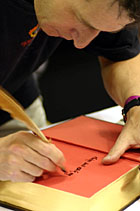 Please note:
"I accept commission work, but I am not permitted to create replicas of movie props, maps of Middle-earth, or anything else which would breach copyright with Tolkien Estate or New Line Cinema or other film companies. Nor can I release the fonts which I created for The Lord of the Rings, though I have created some that are very similar - they are now available for purchase on the Fonts page.
"I can draw maps of some place dear to you (whether real or invented), make calligraphic treatments of favourite quotes, wedding vows, etc, design logos or other graphic art, make replicas of historical documents, provide illustrations, or create paintings of your chosen subject.
"If there's a quill, there's a way..."