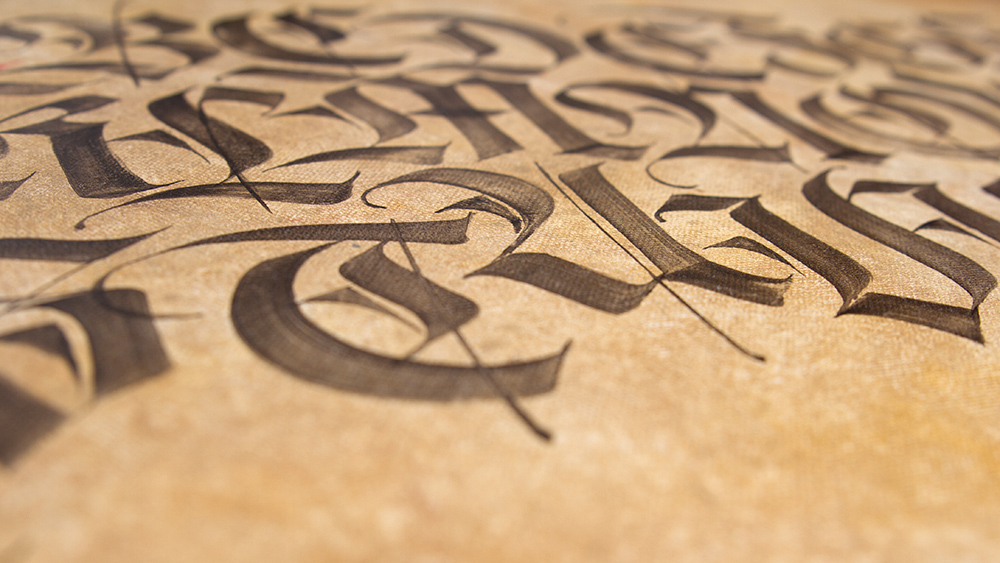 October 2020 Myth and Legend, the Artist as Storyteller. Two New Zealand artists, Daniel Reeve and Michael Barker, explore myths and legends... Myth and Legend Read more...
5 August 2020 Hosted by the San Francisco calligraphy guild Friends of Calligraphy, Daniel gave an online lecture... Read more...
September 2019 Stoked to be included in "Archipelago - an atlas of imagined islands," edited by... Read more...
30 March 2019 On a large canvas, combining painting, gilding and cartography, Daniel has created Metal Earth... Read more...
16-17 March 2019 Daniel is once again taking part in the Porirua Arts Trail, over the weekend of 16-17 March 2018... Read more...
January 2019 Daniel's portrait of Gandalf the Grey is now for sale at Weta Workshop... Read more...
1 December 2018 The Ring Maker meets the Ring Writer! Having created this elven-inspired script over several years, Daniel has... Read more...
26 October 2018 Part Two of the "Get NZ on the Map" campaign is released today! Map by Daniel Reeve, of course ;-) Read more...
October 2018 Hobbiton calligrapher kept busy... Read more...
16 October 2018 Daniel contributed to a mini documentary: "Conlang - the language of Nerdom" on TVNS's Re: channel... Read more...
4 October 2018 The Writer's Map, An Atlas of Imaginary Lands, is published today! This book is a... Read more...
October 2018 Daniel donated a painting to the Little Sprouts charity art event.... Read more...
For more news, visit the News section